My name is XYZ and I'm a 'cheeseoholic'! For me personally, chocolate is yummy, but cheese is any day better. I have never craved chocolate the way I often crave cheese. You give me a food oozing with melted cheese and I'll eat it. I totally and unconditionally love cheese. If you do too, them I'm sure you would love these recipes of desserts made with cheese. I know I do!
Also read: The Quickest And Easiest Cheese Fondue Ever!
Cream Cheese Pound Cake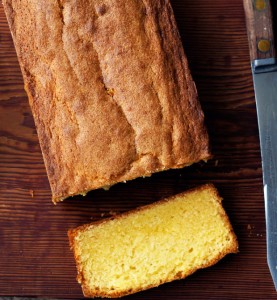 Ingredients
1 ½ cups unsalted butter
225 grams cream cheese
3 cups sugar
6 eggs
1 tablespoon vanilla
3 cups flour
½ tsp baking soda
Method
Cream together the butter, cream cheese and sugar until a light and fluffy consistency is achieved.
Add the eggs to this mixture one at a time. Beat well after each addition.
Add vanilla and mix until it is well combined.
Mix together the flour and baking soda. Add to the mixture.
Mix well until fully incorporated. Make sure there are no lumps.
Pour the batter into a loaf pan or a normal cake tin, if you don't have a loaf pan.
Bake at 325oF forabout 1 hour 15 minutes or until a toothpick inserted comes out clean.
Remove from the oven and let it cool down before transferring onto wired rack.
Eat as desired.
Also read: 20-Minutes To Deliciously Gooey And Creamy Mac N Cheese!
Cheesecake Roll Ups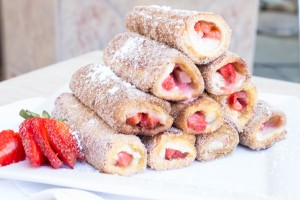 Ingredients
10 slices of plain white bread
1 cup strawberry pulp or topping (you can use any flavour you like)
⅓ cup butter (melted)
1 lemon
115 grams cream cheese (unsalted)
⅔ cup sugar (granules)
3 tablespoons sugar (powdered)
Also read: Interesting Twists To Everyday Egg Recipes
Method
Zest the lemon and mix it with the whole sugar.
Cut the crusts of the bread slices. Using the rolling pin, roll the slices flat.
Mix the cream cheese, powdered sugar and half a lemon juice in a bowl.
Empty the mixture into a piping bag.
Pipe nearly a tablespoon of the cream cheese filling on every slice of bread. Top this with strawberry filling.
Roll up the slice nicely and dip into butter. Make sure all sides are nicely covered with the butter. Follow this by rolling it in the lemon zest and sugar mixture.
Preheat to 350 o F
Place the rolls on a baking tray lined with baking paper. Bake until lightly brown.
Enjoy it warm!
I sincerely hope you enjoy these desserts made with cheese as much as I do. After all, when something is as good as cheese, why not try and incorporate it in every meal, right? 😀