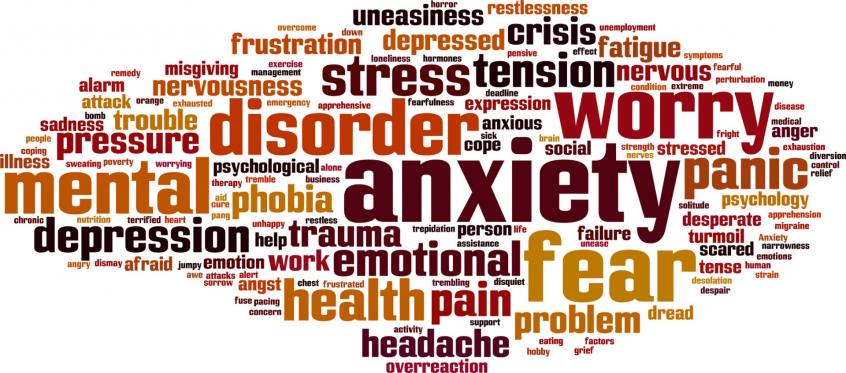 No one wants to live with anxiety. If you're starting to feel as though anxiety and panic are making it difficult to maintain emotional and physical stability, it's time to take action – to learn strategies that will help you cope with that anxiety. You should consider professional help. There are countless skilled therapists and counselors that can train you in new ways to help you for your stress. But if you aren't willing to get help from others or any professional, you can always help YOURSELF! But first, you should know what anxiety really is and how you can battle it.
What is anxiety?
Anxiety is a general term for several disorders that cause nervousness, fear, apprehension, and worrying. These disorders affect how we feel and behave and can cause physical symptoms. Mild anxiety is vague and unsettling, while severe anxiety can seriously affect day-to-day living. Anxiety can be defined as 'an emotion characterized by feelings of tension, worried thoughts and physical changes like increased blood pressure.' It is important to know the difference between normal feelings of anxiety and an anxiety disorder that requires medical attention.
How you can tackle it
1) Breathe it out. You may notice that when your body is tense, you hold your breath. Focusing on breathing is a common but effective technique for calming the nerves. Where is your breath now, and where is your mind? Bring them together. Listen to the movement of your breath. Does your mind wander somewhere else? Call it back. Concentrate only on breathing in and out, beginning and ending, breath to breath, moment to moment.
2) Make peace with time. When you're a worrier, everything can feel like an emergency. But notice this about all your anxious arousal: it's temporary. Every feeling of panic comes to an end, every concern eventually wears itself out. Ask yourself, "How will I feel about this in a week or a month?" This one, too, really will pass.
3) Turn your anxiety into a movie. You can let go of a worry by disconnecting yourself from it. One way is to imagine that your anxious thoughts are a show. Maybe they're a little guy in a funny hat who tap dances and sings out your worry while you sit in the audience, eating popcorn, a calm observer.
4) Recognize false alarms. That fear of your house burning down because you left the iron on has never come true. That rapid heartbeat doesn't mean you're having a heart attack; it's your body's natural response to arousal. Many thoughts and sensations that we interpret as cues for concern―even panic―are just background noise. Think of each of them as a fire engine going to another place. You've noticed them, now let them pass by.
5) Don't let your worries stop you from living your life. Many of them will turn out to be false, and the consequences of your anxiety-less sleep, a rapid pulse, a little embarrassment, are just inconveniences when it comes down to it. What can you still do even if you feel anxious? Almost anything.