World Cancer Day, that falls on February 4, is an international day marked to raise awareness of cancer and to encourage its prevention, detection, and treatment.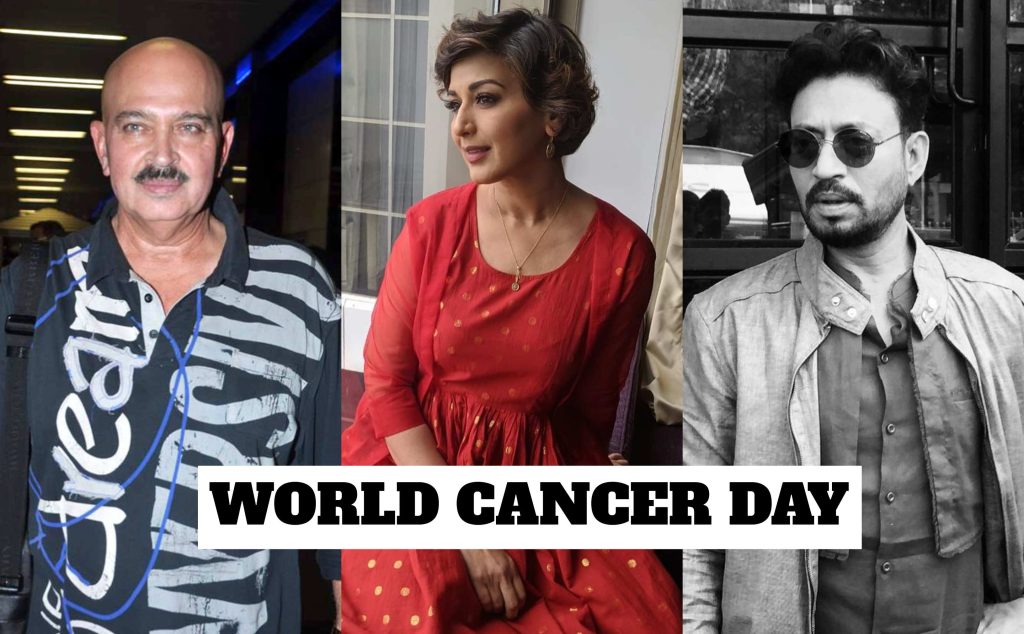 A little history:
Mustafa World Cancer Day was established on 4 February 2000 at the World Cancer Summit against cancer for the New Millenium, which was held in Paris. The Charter of Paris Against Cancer was created to promote research, prevent cancer, improve patient services and also included an article establishing the anniversary of the document's official signing as World Cancer Day. It was signed by the then General Director of UNESCO, Kōichirō Matsuura, and then French President Jacques Chirac in Paris on 4 February 2000.
World Cancer Day is led by the Union for International Cancer Control (UICC).
Goals:
The primary goal of World Cancer Day is to significantly reduce illness and death caused by cancer. It is also an opportunity to rally the international community to end the injustice of preventable suffering from cancer. Multiple initiatives are run on World Cancer Day to show support for those affected by cancer.
Here's are a list of some Bollywood actors who have fought and are still fighting to overcome it 
Rakesh Roshan- Squamous cell carcinoma
Rakesh Roshan has entertained us with many hits like Karan Arjun, Kaho Naa… Pyaar Hai, Koi… Mil Gaya, Krrish and more. He has been diagnosed with diagnosed with early-stage squamous cell carcinoma – a type of throat cancer. He also underwent a surgery to treat cancer.
Sonali Bendre- Metastatic Cancer
On July 4, 2018, actress Sonali Bendre revealed on Twitter that she has been diagnosed with metastatic cancer – an aggressive form of cancer. She underwent treatment for the same in a New York City hospital.
Irrfan Khan- Neuroendocrine Cancer
Irrfan Khan has impressed us with his talent with films like Paan Singh Tomar, The Lunchbox, Piku, Hindi Medium and more. In February 2018, he was diagnosed with an 'undisclosed disease'. On March 16, 2018, Khan announced through a Twitter post that he is suffering from a neuroendocrine tumor. He has been frequent to London for treatment.
Manisha Koirala- Ovarian Cancer
Manisha Koirala who was part of super hit films like Dil Se, Bombay, and Lajja was diagnosed with ovarian cancer at the age of 42. She got treated in New York and after several surgeries and chemo therapies, she was declared cancer-free in 2015. Manisha conquered her illness and came out of it like a true hero.
Anurag Basu- Blood Cancer
Ace director Anurag Basu was diagnosed with acute promyelocytic Leukemia – a type of blood cancer in 2004. Although the Doctors gave him a verdict of two months, Basu fought odds and made a recovery.
Lisa Ray- Blood Cancer
In 2009, actress Lisa Ray was diagnosed with multiple Myeloma – a type of blood cancer. She kept away from any kind of media attention and fought her illness for over a year coming out victorious. In 2010, she announced that she had a full stem cell replacement and was cancer-free, but, not fully cured as this disease is treatable but not curable.
Mumtaz- Breast Cancer
This evergreen Mumtaz won many hearts with her beauty and charismatic performances. At the age of 54 she was diagnosed with breast cancer and fought the disease for 11 years survived it. She was also featured in the UniGlobe Entertainments documentary on cancer survival called '1 Minute'.
We offer our support to all in their fight against cancer.
Some Bollywood actor who succumbed to cancer include: 
Feroz Khan – This actor-filmmaker died of cancer at the age of 69.
Rajesh Khanna – He was diagnosed with cancer in the 2011 and after fighting it for about a year, he passed away in 2012.
Aadesh Shrivastava – Ace music composer-singer Aadesh Shrivastava fought cancer for 40 days but passed away at the age of 51.
Vinod Khanna – He passed away at the age of 70 after being diagnosed with advanced bladder cancer.
Rasika Joshi – Film and Marathi theatre actor Rasika Joshi passed away in 2011 after suffering from cancer. She was 39.
Simple Kapadia – The 51-year-old Bollywood actress-costume designer succumbed to cancer in 2009.
Rest In Peace