Many Bollywood stars have a fascination for superbikes. Just like them and their lifestyles, their superbikes are fast and furious too. From Salman to Shah Rukh to John, the kings of Bollywood have been on their two-wheel wonders, making women drool. Let us look at some Bollywood 'super' stars and their 'super' bikes.
Salman Khan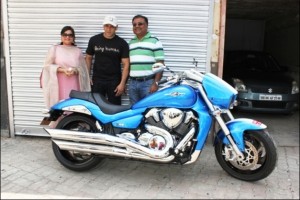 Salman has been seen riding bikes in many of his movies. In movies like 'Ek Tha Tiger' and 'Partner' he was seen riding limited edition sports bikes. He has a huge collection of superbikes himself and recently added The Suzuki Intruder M1800RZ to his collection.
Shah Rukh Khan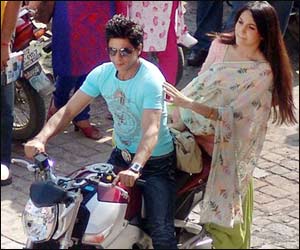 The Baadshah of Bollywood cannot hide his passion for superbikes. He was seen riding sports bike in 'Rab Ne Bana Di Jodi' and 'Don 2′. Shah Rukh, in an interview, spoke about how he always loved riding bikes but his mother never allowed him since childhood. His dream came through in his movies itself. Talk about reel life fulfilling your dreams! Shah Rukh also has a huge collection of cars, but we'd say that bikes suit his personality more!
Fardeen Khan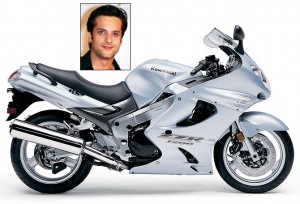 This actor also has a crazy obsession with superbikes. He was seen riding sports bikes in many of his movies and owns a Kawasaki ZZR 1200.
John Abraham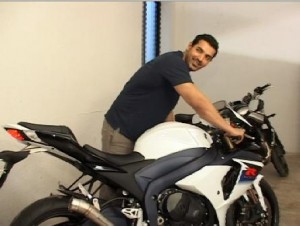 Who can forget this Bollywood hunk and his character in 'Dhoom', where he rode a swanky Hayabusa. Two of his favourite bikes are Yamaha R1 1000cc and V-MAX 1700 cc.
Shahid Kapoor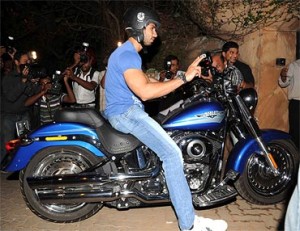 This bike enthusiast owns a Yamaha MT-01. He recently bought a 'Harley-Davidson Fat Boy' and is only one of the few proud owners of the bike in India.