When it comes to action, Bollywood does take it to the next level, from high octane fighting scenes to car chases. But when it comes to stars who have a background in the action scenes they are performing, the scenes become more realistic and entertainment. So here we take a look at the real action heroes of Bollywood who have chosen to do their own stunts without using body doubles.
(Also read – Bollywood celebrities who changed their names)
Tiger Shroff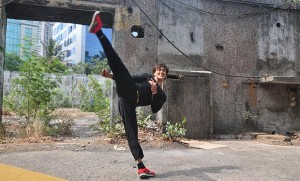 Son of Bollywood actor Jackie Shroff, Tiger Shroff has been trained in gymnastics and martial arts since childhood. Tiger made his Bollywood debut with 'Heropanti'. He gave a lot of efforts into developing his martial arts skill for this movie and was appreciated a lot for his performance. He trained in martial arts and parkour, and focussed on his body for around 2 years before the shoot began. Tiger did all the stunts by himself and did not need a body double.
(Also read – Bollywood celebs before stardom)
Akshay Kumar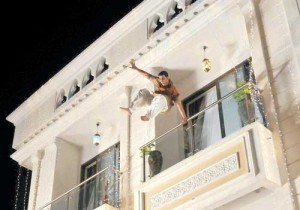 Khiladi Kumar has always been a supremely fit actor and has trained in Muay Thai, a martial art form of Thailand when he was in Bangkok. He does most of his stunts by himself and has been known to be the most daring action stars in Bollywood. He was awarded the highest Japanese honour of "Katana" and a sixth degree Black Belt in Kuyukai Gojuryu Karate. Akshay jumped from one elevator to another at a height of around 110 feet in an action scene for the movie 'Singh Is Kinng'. He even carried a 350 pound wrestler named 'Undertaker' for the film 'Khiladiyon Ka Khiladi'. He has also jumped from a height of around 45 feet in the movie 'Khiladi 786′. These are just a few of the innumerous stunts that Akshay has done in his illustrious career.
(Also read – Bollywood relationships you may not know about)
Vidyut Jamwal
(Also read – Bollywood stars and their bikes)
Actor Vidyut Jamwal practises Kalaripayattu – a martial art form from Kerala. This includes strikes, kicks, grappling, preset forms, weaponry and healing methods. He made his Bollywood debut with 'Force', where he starred opposite John Abraham and Genelia D'Souza. He received a lot of praise for his performance in this action packed film and won the Filmfare Best Male Debut Award for the film. His stunts in the film 'Commando – One Man Army' were extremely dangerous and were done all by himself without the support of any ropes or harnesses.