One piece of clothing that can easily flatter any woman's body is a skirt. If you want to flaunt your vibrant personality (and the sexy derriere), your love for unique fashion, and captivating creativity, then skirts are the way to go! What's more is that you get a whole range of styles and sizes to choose from. Maxi, midi or mini, peplum or pleats, whatever you choose, striking a balance is essential. If you're still wondering on how to sport the trend, don't worry. We've got a few interesting combinations that you must try.
Here's how you can wear the flair this year…
Maxi skirt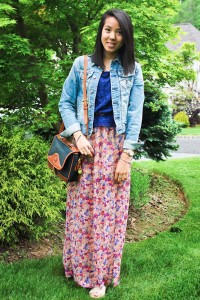 It's no wonder the maxi skirt continues to be a major trend after making a splash seasons ago. This closet staple works year-round, but feels most at home in our summer wardrobes—lightweight fabrics and pretty prints go hand-in-hand with the super-feminine style. Go for floral printed ones in pastel shades and pair them with bold colours on top. Keep the accessories to a bare minimum.
Pleated skirt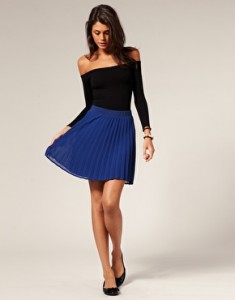 Pleated skirts might have a school dress feel but truth is that, this style flatters most body types. It glides as you walk, leading the eye away from problem areas. Choose a fabric with an easy drape, like silk crepe, wear a crop top and your favourite boots, which will clash with the skirt's ladylike vibe and give you a sexy new image.
Denim skirts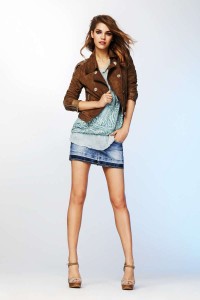 Denim skirts are back in style in a big way. You may have noticed the comeback of this fabric in a variety of styles and the best part is that you can wear it perpetually all the time. Denim skirts look great on weekends, as a cute date outfit, or even when paired with tailored tops and great accessories, to wear to work. Get a get black washed pencil style denim skirt and wear it with your favourite checked shirt, tying your hair in a sexy loose bun.
Midi skirts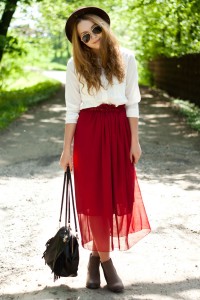 The midi skirt has been making a comeback for several years now. Midis are the one skirt style to try this season. Wear watercolour prints and bold blooms to make them a versatile garment. Our fashion forecasters tell us this skirt trend is here to stay.
Minis
Ladies, it's time you wax your legs and slather on some moisturizer, truncated hem lengths are back in vogue this season. Choose neon colours like oranges and yellows and team them up with chiffon shirts. Add some bling in the accessories for an uber cool look.
Peplum Skirt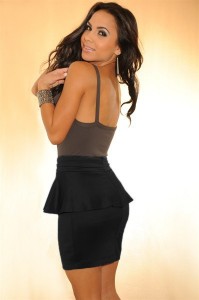 There's a lot of flounce for the ounce here, so select a soft material for your peplum skirt. Rule of thumb to rock this look is to wear it with a full top that runs into the peplum and wear your sexy peep-toes or strappy heels to complete the feminine look.
Skorts
The high-waist trend has been around since the 1940s and we are so glad it will never leave! This trend is best carried off in skorts – skirts meets shorts. Skorts are actually shorts, but with one little piece of fabric that disguises them as skirts.