We all hate oats equally. Sure, it's good for us, but anything that's healthy cannot taste good. Or can it? I was surprised when my granny cooked up a 3 course meal for me recently; and all the dishes had one main ingredient – Masala Oats! Can't wait to know how she cooked up the magic? Read on…
Also read: Junk food made healthy
Masala Oats Tikki: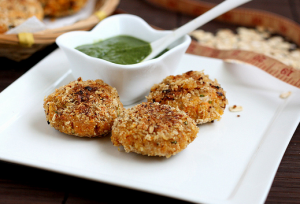 Yummy scrumptious tikkis are everybody's favourite breakfast. They really put a smile on my face. Make this simple dish and relish it with your family almost every morning!
Ingredients:
1 pack Masala Oats
1 cup cooked yellow moong dal
1 finely chopped onion
1 grated orange carrot
1 teaspoon red chilli powder
Oil for shallow frying
Salt and pepper as per taste
Chopped coriander leaves
2 tablespoons corn flour
Method: In a mixer-grinder, add Masala Oats and cooked yellow moong dal and grind coarsely. Transfer the contents to a big bowl, and add salt, pepper, chilli powder, chopped onions, grated carrots and chopped coriander leaves. Mix the ingredients well and form round tikkis. Dust each tikki with a little bit of corn flour and shallow fry in oil. Your quick 20-minute yummy Masala Oats tikki is ready!
Also read: Foods that can cool you down this summer
Masala Oats Upma: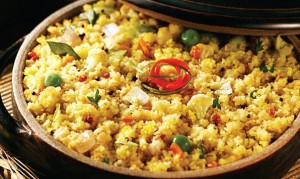 Another breakfast staple in most Indian households is the upma. Now make the upma healthier with Masala Oats and enjoy this spicy tangy upma without worrying about your waistline.
Ingredients:
1 cup Masala Oats
1 finely chopped onion
½ a cup mixed chopped boiled vegetables
Salt as per taste
½ cup water
2-3 green chillies
2 tablespoons oil
A pinch of mustard seeds
1 teaspoon each of urad dal and chana dal
A sprig of curry leaves
Method: Sauté the chopped vegetables in one tablespoon oil until the onions change colour. Now add chopped green chillies and salt, and fry for some more time. Finally add the Masala Oats with water and cook on medium flame while covered. In a separate pan, heat the remaining oil and add mustard seeds, curry leaves and dal to temper. When dal seems to be fried well, turn off the flame and transfer the oats to the temper and mix well. Serve immediately.
Masala Oats KFC: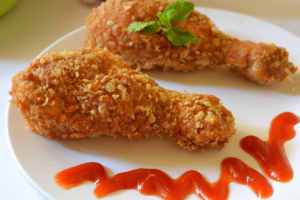 Yay! KFC at home! And it tastes better than anything I've ever tasted that qualified as KFC-wannabe. My mom's recipe of fried chicken legs is simply heavenly. It's crisp on the outside and tender and juicy on the inside. Mouth watering yet? Here's the prizewinning recipe:
Ingredients:
½ kg chicken legs partially covered with skin
2 eggs
2-3 tablespoons milk
2 cups of all purpose flour
2 teaspoons garlic paste
3 teaspoons onion paste
1 teaspoon red chilli powder
Salt and pepper as per taste
2 tablespoons bread crumbs
½ cup Masala Oats
Juice of 1 lemon
Oil to fry
Also read: 6 awesome Maggi noodle recipes
Method: Wash and clean the chicken legs without removing the skin entirely. Pat them dry with a kitchen tissue. Prepare a marinade with lemon juice, salt, pepper, red chilli powder, onion paste, garlic paste and marinate the chicken overnight. In another bowl, beat the eggs with milk to obtain a smooth consistency – this is dip number one. In a separate flat dish, mix together, all purpose flour, bread crumbs, red chilli powder, Masala Oats, salt and pepper – this is dip number two. Now bring the marinated chicken legs and first dip them in dip number two – that is the flour mixture. Now coat the legs in dip number one and again in dip number two. Fry the chicken pieces until golden brown. And don't even pay money to KFC.