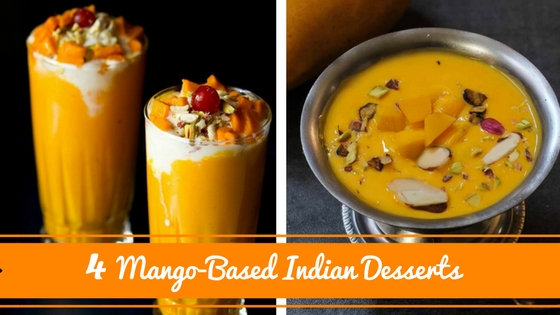 The king of the season is here! The only reason why we look forward to summer is because of the yummy finger licking MANGOEEEEEEES! Be it aam ras or just the fruit itself, we cannot get enough of it! Here are few more ways to satiate your hunger for the fruit with these amazing desi mango-licious dessert recipes!
1.Mango Kulfi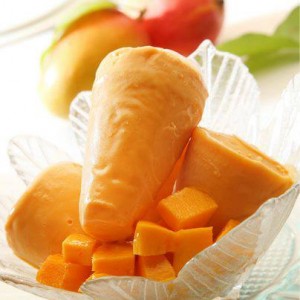 This amazing dessert has been known to be originated during the Mughal dynasty as one of the royal sweets. Known to belong to the ice-cream family, it's loved by everyone from kids to adults.
Ingredients:
1 Can condensed milk
½ Mango Pulp
½ cup cream
12-15 almonds-blanched and shredded
Kulfi moulds
Method:
1) Mix together the condensed milk, cream and mango pulp.
2) Beat to blend well. Add the nuts, saving a few for garnishing.
3) Mix well and pour into moulds.
4) Freeze at the lowest possible temperature.
2. Mango Phirni
Phirni is the twin sister of Kheer also invented during the rule of Mughal emperors. This North Indian dish is a creamy rice-based dessert.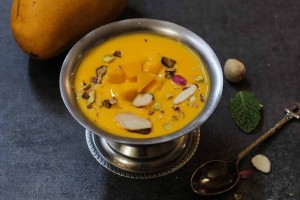 Ingredients:
1 cup of rice
Mangoes 4 tablespoons
Milk 1 ltrs
Sugar 3/4 cup
Pistachios, blanched and sliced 8-10
Almonds, blanched and sliced 6-8
Method:
1. Soak rice in two cups of water for half an hour. Drain and grind to a coarse paste. Add a little water to dilute.
2. Add the rice paste in boiling hot milk while stirring simultaneously, reduce heat and simmer for 3-4 minutes, stirring continuously till the milk thickens well.
3. Add sugar, and continue to simmer till sugar dissolves and is incorporated well. Remove from heat, cool to room temperature and stir in mango cubes keeping a few aside for garnishing.
4. Pour this mixture into bowls, garnish with sliced pistachios, almonds and mango cubes and serve chilled.
3. Mango Shrikhand
A delight for all the yogurt lovers! This Maharashtrian dessert is made of strung yogurt which is then flavored.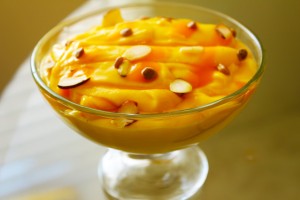 Ingredients:
Mango Puree – 1 cup
Yogurt – 3 cups (should not be sour)
Powdered sugar – 1/4 -1/2 cup
2 Blanched and shredded Pistachio
4 blanched and shredded Almonds
Cardamom powder – 1/4 tsp
Few strands of saffron soaked in warm milk
Method:
1. Place yogurt in a muslin cloth and hang it overnight to drain out the whey from the yogurt.
2. Mix the hung yogurt with powdered sugar nicely until the sugar dissolves.
3. Add saffron, half of the chopped pistachio and almonds, mango puree, cardamom powder and mix well.
4. Refrigerate for an hour and garnish with dry fruits while serving.
4. Mango Mastani
Fruit Juice+ Milk+ Ice cream+ Dryfruits= Pune-based Mastani !
A thick milkshake served with a big dollop of icecream. Mastani is a unique name it's actually based on the name of the queen Mastani who was wife of Peshwa Bajirao.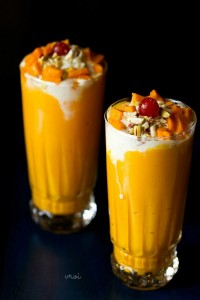 Ingredients:
Mango puree 2 cups + to serve
Milk 1 cup
Fresh cream 1 cup
Sugar 3 tablespoons
Vanilla ice cream as required
Mixed nuts chopped for garnishing
Method:
1. Blend milk, cream and few ice cubes along with mango puree.
2. Pour into the serving glasses leaving half inch space on the top.
3. Scoop out a dollop of ice-cream and place them on the top and garnish with dry fruits.
Grab your apron and try one of these easy to make Indian desserts! Cause we are 'Mango People'!
Image Sources:
http://www.vegrecipesofindia.com
http://www.archanaskitchen.com
http://www.khanapakana.com
https://cdn.instructables.com
Also Read: Super Simple Mango Basundi Recipe You Must Try
To stay updated on The Brunette Diaries, Like us on Facebook (@TheBrunetteDiaries) and Follow us on Twitter (@brunettediariez) right away!