Do you want to make your partner feel special on this Valentine's Day but are low on budget for it? Restaurants can be very expensive and crowded especially on occasions like these. So here are three amazing full course meal recipes to help you have the best and most romantic candle light dinner for your better half at home. They are easy to prepare and taste delicious. Just follow the simple steps and you too can be Master Chef for the love of your life!

Starter Recipe: Chicken Roulade
Ingredients are as follows –
1) 2 Chicken Breasts
2) 250 gms Chicken Mince
3) 2 Eggs
For Tart
4) 1 Blind baked tart
5) 200 gms Big Sweet Potatoes
6) 2 Baby Carrots
7) 50 gms Broccoli
For Sauce
8) 250 ml Chicken stock
9) 50 gms Butter
10) 100 gms Blue berries
11) 50 ml White wine (cooking)
12) Salt and pepper for seasoning
Spread the chicken breasts on baking sheets or cling films and pound it with the help of any heavy object or rolling pin/wooden chaka. In a separate bowl mix the mince, eggs and season it with salt and pepper. Stuff the chicken breasts with the mixture and make rolls of it. Tie it with the use of toothpicks. Preheat the oven at 450* degrees and bake the roulades for about 7-10 minutes until golden brown. For the sauce, Boil the chicken stock then add the blueberries and white wine and let it boil until it reduces to the consistency of a sauce. Take a pan, add butter and seasoning to roast the sweet potatoes. Once roasted peeled and mashed, fill the mashed potatoes in a piping bag and pipe it on the Tart. Saute the veggies and slice the Chicken Roulade. Place everything on a clean white plate, you can present the dish as shown in the picture below or can make your own style of presenting the dish.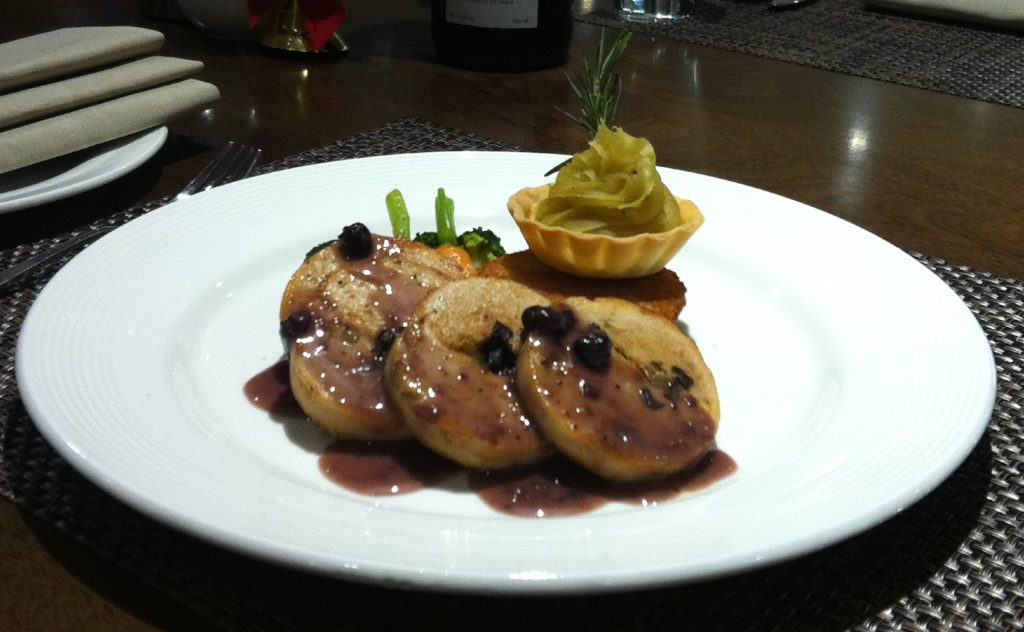 Main Course : Vegetable Tangine with Cous Cous
Ingredients are as follows –
1) 100 gms Cous Cous
2) 50 gms bell peppers
3) Olive Oil (as per need)
4) 3 springs of Mint
Tangine
5) 100 gms Potatoes
6) 100 gms Carrots
7) 100 gms Chick Peas
8) 100 gms Aubergine
9) 100 gms Bell Peppers
10) 100 gms Zucchini
11) 200 ml Tamoto Sauce
12) 100 gms Olives
13) 50 gms Butter
14) Salt Pepper
15) Paprika
16) Star Anise
17) Ground Cinnamon
18) Cayenne Pepper
19) 20 gms ginger
20) Tumeric
Drizzle the Cous Cous with hot water and olive oil and let it steam for about 8 minutes. Once done add lemon juice, salt, pepper, mint, olives and toss. Keep it aside. For the Tangine, pour olive oil in a pot, add Star anise, Ground cinnamon, cayenne pepper and ginger. As your kitchen is filled with its aroma, add the veggies and stir. Saute the veggies properly then add tomato sauce/puree along with tumeric, paprika and butter. Finally season it with salt and pepper accordingly. Spread the Cous Cous in a bowl and place the Tangine right in the centre on the Cous Cous. Dinner is served.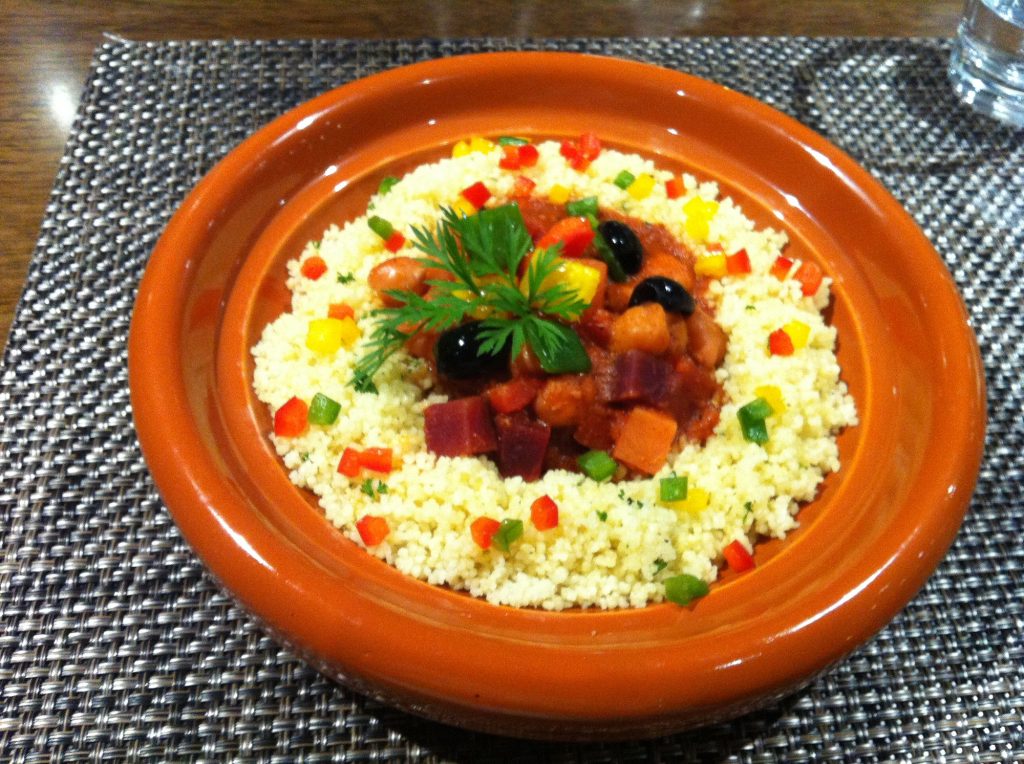 Dessert : Chocolate Fudge
Ingredients are as follows –
1) 45 gms Dark Chocolate
2) 23 gms Butter
3) 1 Egg
4) 13 gms sugar
5) 1 teaspoon Cocoa Powder
6) 20 gms Flour
7) Half a teaspoon Baking powder
8) Half a teaspoon Baking soda
9) A pinch of Salt
10) 13 gms Chocolate Chips
11) Few drops of Vanilla essence
12) 5 gms coffee powder
13) Few fresh strawberries for garnish
Take butter, dark chocolate and melt it, keep it aside. Beat the eggs and sugar until fluffy. Take a separate bowl and add all the dry ingredients, Flour, Baking powder and soda, Cocoa powder and mix. Add this dry mixture to the Eggs and Sugar and mix with a spatula. Add vanilla essence along with melted butter and chocolate. Pour the mixture into moulds and place in the oven that is preheated 180* degrees. Keep it for 20 minutes or until, when you insert a skewer and it comes out clean. Place the Chocolate Fudge on a plate, drizzle some melted chocolate and freshly cut strawberries.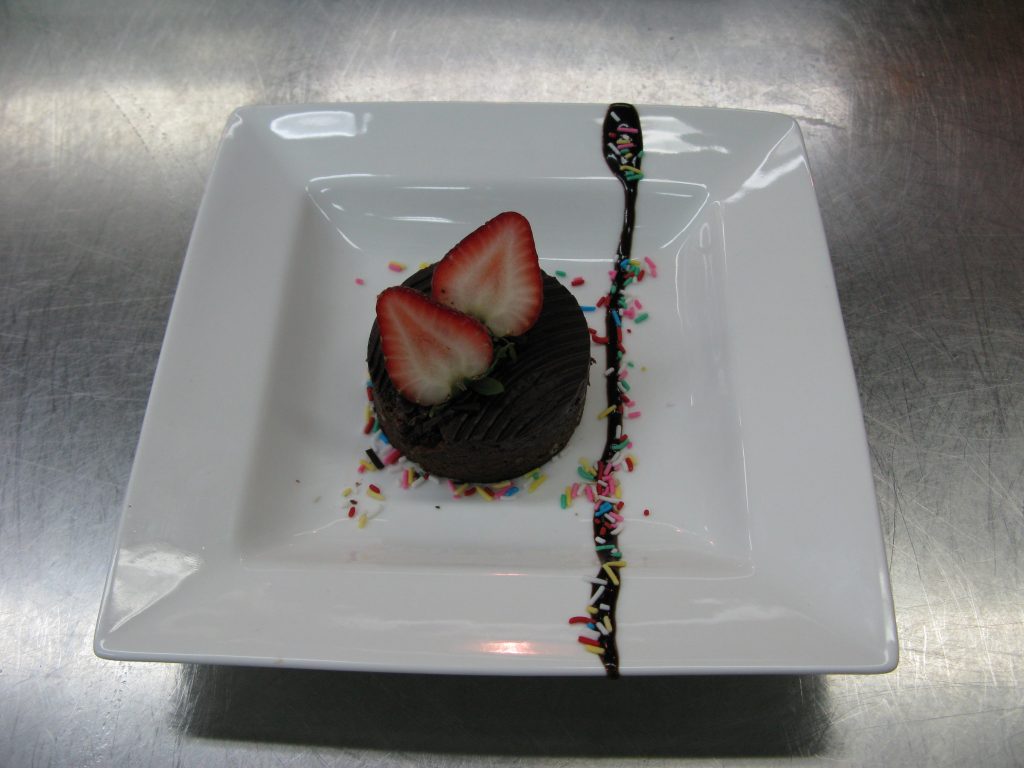 Here you go, your Valentine's Day special dinner is ready to serve. It goes great with any kind of wine and lots of love.
Recipe Credits : Crowne Plaza Mayur Vihar.