'Bhai, Chicken toh hoga na?'
This question has popped up innumerable times on various occasions because we Indians just love Chicken!!
Indian Chicken recipes with masalas have a huge fan base both because of their protein content and their taste! Keep a platter of tandoori chicken and people will devour it within minutes. That's the power of chicken! But again, not all chicken recipes are healthy enough to be consumed on a daily basis.
So, we bring to you 'The Kukkad Soup' aka Chicken Broth in our own Jugaadu way!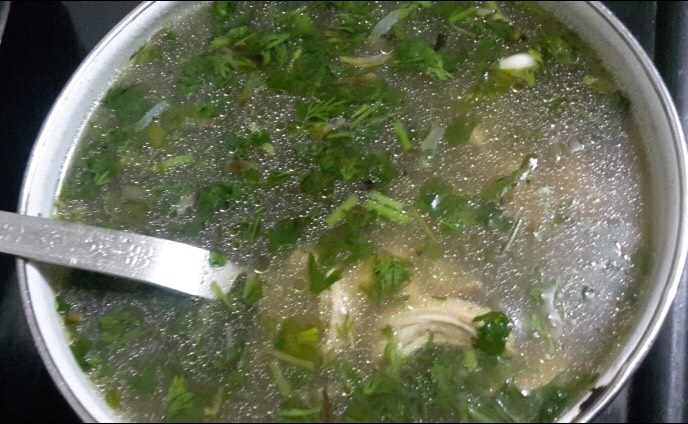 Many of you must be wondering, ''Yaar, Healthy ke naam par bland and tasteless hoga!'. That was our reaction too but when we actually tried it, it was far from being bland and tasteless. In fact, it was delectable! Compliment this soup with multigrain bread or a salad and you have a wholesome meal ready.
To make the kukkad soup at home, just follow the simple steps mentioned below:
Steps
– To make this hearty soup, first put a large pan on medium flame. Add and melt 1 tablespoon butter in it.
– Once the butter melts add in 1 pod of garlic and 2 spring onions, finely chopped.
– Saute the mix on a low flame till it turns light brown. Then add the chicken meat and let it fry till the meat turns golden brown.
– Meanwhile, boil 6 cups of water in a heavy-bottomed pan on high flame. Once done, transfer the boiling water to the pan and let the meat get cooked and allow its juices to get released into the soup.
– Once cooked, strain the soup into a big bowl or pan and remove the fat from it after cooling it and straining it again
-Put the pan on medium flame again and add the soup into it. Break and separate 2 egg whites into a bowl. Now slowly pour the egg whites in a thin stream to the soup while stirring continuously
– Season the soup with salt and black pepper and allow it to boil again for 2 minutes.
– Turn off the heat and strain the soup one last time. Garnish it with chopped celery or coriander and voila! Our kukkad soup is ready to be served.
And we are sure, after eating this you'll be singing,
'Yeh Toh Kukkad Kamal Da'