Carter's Blue, Piccadily, Maroosh and Falafel's – what's the first thing that came to your mind after reading these names?
Let us guess … – It's Shawarma!! Being a Mumbaikars, we all know that these restaurants serve some of the best Shawarmas in Mumbai.
This Lebanese wrap is also one of the top emerging street food snacks in Mumbai. While Mumbai swears by its Vada Pav & Ragda Patties, one cannot deny the strong influence some of the neighboring countries have on its palette and this particular dish is one such example having its own loyal fan base.
Some people may call it a Roll or a Frankie but this Lebanese wrap is made up of Pita Bread or Khubz and is stuffed with grilled meat/paneer, cucumber & tomatoes, along with a dollop of creamy tahini sauce or mayonnaise.
This sumptuous delicacy can be easily cooked at home with very little oil and can be turned into a wholesome and healthy meal.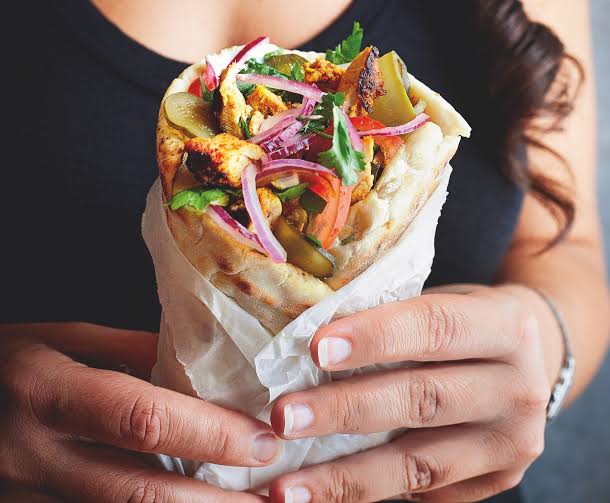 Easy Shawarma Recipe
– Brine 500 gm boneless chicken with a pinch of salt, sugar and 1 tablespoon of vinegar. Add enough water so that the chicken is immersed completely and leave it for approx 1 hour.
– Chop vegetables for a salad – 1 Onion, 1 Red bell pepper, 1 cucumber and Tomato, a bunch of lettuce leaves, and olives and jalapenos as per taste.
– After chopping the veggies, season them with salt & pepper and add 1 tablespoon of Tahini Sauce/Mayo.
– After an hour, transfer the chicken to another bowl and add to it ½ tablespoon of tandoori masala, 1 tablespoon of Kashmiri red chili powder, 1/2 cup Yogurt, 1/2 tablespoon Ginger-garlic paste and salt & pepper to taste.
– Mix all the ingredients well and once done, brush the chicken with oil and cook it on a non-stick pan for about 20 mins.
– Once cooked, cut it into strips.
– Take a Khubz or pita bread and spread 1 tablespoon of Tahini sauce or Mayonnaise on the bread and then fill it with chicken and salad.
*Vegetarians can use Paneer instead of Chicken.
So what are you all waiting for? Surprise your clan with your culinary skills and you can thank us later.