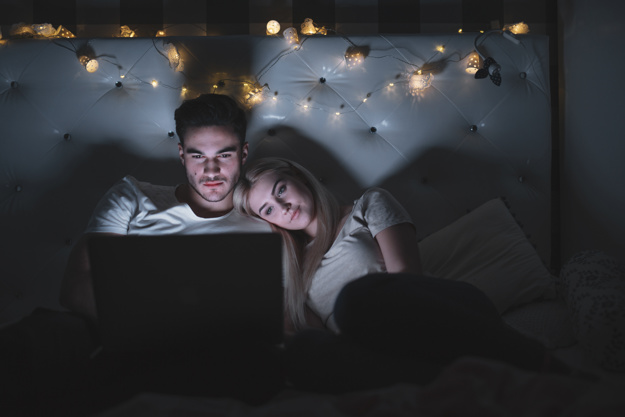 Isn't the weather just romantic? The cloudy sky, cold breeze, the damp atmosphere, everything about monsoon is romantic. You either feel like eating all the hot stuff in the kitchen or simply just cuddle up under a blanket in your bed. You can say this weather is perfect for 'Netflix and Chill' ;). We've got a movie list prepped up for you to binge watch it with your other half, special someone, your honey boo or whatever sweet adorable names you've got for them, being all snuggled up and simply enjoy these movies in the rains.
1) 50 first dates
https://www.youtube.com/watch?v=H1SVxJZTgI4
50 First Dates is a warm yet funny love story. It is about a man who falls for a girl who suffers from short-term memory loss. She remembers only the days before her accident and she waked up believing it's her birthday every day because she cannot remember anything beyond that day. So, this guy tries to woo her every single day, prays that she falls in love with him for that day and most importantly, he loves her without any conditions.
2) P.S. I Love You
This movie might make you shed a few tears but is surely worth watching. It is about a young widow who starts her life afresh with the help of ten notes that her late husband has left for her.
3) A Walk To Remember

https://www.youtube.com/watch?v=R3b19svqbls
It is a heart-wrenching yet beautiful story of a guy who falls in love with a girl who has a terminal disease, and how the couple spends their last days together. P.S. – Keep a tissue box handy.
4) Shakespeare In Love

https://www.youtube.com/watch?v=gk1rTKB6ZF8
This movie depicts Shakespeare as a struggling playwright/actor who is out of ideas and searching for a muse. That's when he meets Viola de Lesseps, an aspiring stage actress who loves Shakespeare's plays but must pose as a man to follow her dream because women aren't allowed to act. The two have an instant connection, and the comedy of errors that follows ends up inspiring Romeo and Juliet. Again, this love story isn't true, but it'll make you see Shakespeare's most famous play in a whole new light.
5) Love Aaj Kal

https://www.youtube.com/watch?v=dLH1gmk9_iE
A couple part their ways because they move to different places to pursue their career. But they say it right, love knows no boundaries, and the distance actually makes them realise their feelings for each other.
6) The Notebook
This is one of the movies you can watch again and again with your partner and still not feel bored. The story is set in 1940s where a young and not-so-affluent man falls in love with a rich woman. Soon, they are separated because of their social differences. What happens next? Well, you need to watch the movie for that.
7) About Time
From the man behind Love Actually, Notting Hill and Bridget Jones's Diary comes this uplifting flick about a young man who realizes he has the ability to time travel. A wonderful reminder to cherish each and every day (and also that Rachel McAdams is amazing in everything).
Please tell us your favorite romantic movie to watch with your partner in the comment section below <3